Celebrating AAPI Month with the Children's Minnesota Asian ERG leaders
May marks Asian American and Pacific Islander (AAPI) Heritage Month, a time to celebrate the tremendous accomplishments and contributions Asian Americans, Pacific Islander Americans and Native Hawaiians have made throughout history and continue to make today.  
In honor of AAPI Heritage Month, we're highlighting the leaders of Children's Minnesota's Asian Employee Resource Group (ERG), Rachel King, director of finance, and Leslie Yang-Ellis, talent acquisition consultant, to learn more about their experiences at Children's Minnesota and how they're celebrating AAPI Heritage Month.
Get to know Rachel and Leslie!
Tell us about your role and how long you've worked at Children's Minnesota.
Rachel: I am the director of finance at Children's Minnesota and work in the accounting department. I focus on month-end close, financial reporting, tax reporting and compliance. In addition, I work collaboratively with many teams like revenue management, HR compensation, legal, risk and compliance to operationalize finance within the organization. I have been at Children's Minnesota for nine and half years! 
Leslie: I am a talent acquisition consultant and have been with Children's Minnesota for five years. The departments I support are central processing distribution, environmental services, nutrition, security and warehouse. I partner with department leaders and recruit amazing people to join the Children's Minnesota mission and vision.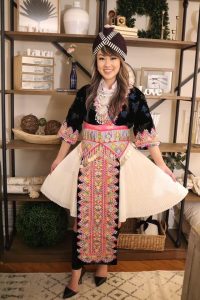 What inspired you to work at Children's Minnesota? 
Rachel: Previous to Children's Minnesota, I worked in public accounting, and I was seeking a better work-life balance. When the opportunity at Children's Minnesota came up, I was excited about contributing to an amazing mission and growing each day with new challenges. 
Leslie: What inspired me to work at Children's Minnesota is the fact that I get to be a part of kids' journey during their time here. I don't work directly with patients but knowing that I can make a difference through recruitment for Children's Minnesota is what truly inspired me.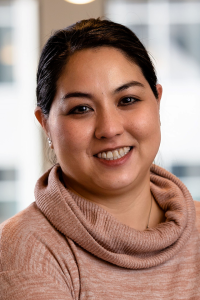 Why did you decide to pursue a leadership role with the Asian ERG?
Rachel: I was approached with the opportunity and was flattered to be considered. Personally, I did not grow up with a lot of Asian culture in my home, but I was always curious about my own ethnicity. Leading the Asian ERG has allowed me to learn about several Asian cultures and facilitate a place for others to feel included and celebrated. 
Leslie: I take a lot of pride in being a 2nd generation Hmong American. I love my heritage and culture. It's important to celebrate who you are and share the beauty of that with others. We have lots of Asian employees, patients and families at Children's Minnesota, and I wanted our voices to be heard and have a seat at the table. This is an exciting opportunity for us to celebrate our Asian identity and engage with other ERGs as well. 
Do you have a favorite memory with the Asian ERG?
Rachel: The annual Diwali celebration has been so fun for me to be a part of. Dr. Manu Madhok has led this celebration and graciously brought in family heirlooms and traditional clothing for us to wear and display. It was such a fun experience to learn about! 
Leslie: I have lots of favorite memories with the Asian ERG, but the most personal memory to me would be when we celebrated the Hmong New Year in December 2022. It was our first year celebrating Hmong New Year in-person at our Minneapolis and St. Paul campuses. We showcased traditional Hmong clothing, Asian candies, snacks, and shared an activity called 'ball toss' which is popular during the Hmong New Year celebration. We also gave out balls so others could engage in the activity. 
How are you celebrating AAPI Heritage Month this year?
Rachel: The Asian ERG is planning several events at Children's Minnesota this month that we encourage everyone to check out! Personally, I am looking to support local AAPI-owned businesses and find some new favorites in my community.  
Leslie: I attended a Hmong arts and crafts fair which included multiple vendors from the Twin Cities and Wisconsin. They sold handmade soaps, paintings/drawings, bakery goods, apparel, jewelry and other fun items. I will also be attending the Asian Street Food Night Market in Maplewood on Friday, May 19, from 9 a.m. to 11 p.m. and Saturday, May 20, from 9 a.m. to 9 p.m. I will also continue supporting small Asian-owned businesses. 
Alexandra Rothstein