Beating the odds and navigating the unknowns: baby Aria's story
Jesse and Sarah Stensby both agree they never would have predicted their unborn daughter would need an intricate orchestration of medical experts working in collaboration to navigate her rare combination of life-threatening health complications. However, in the fall of 2022 that is precisely what baby Aria needed.
Stunning news in early weeks of pregnancy
At age 40, Sarah's pregnancy was higher risk. The couple opted to get a 10-week DNA blood test to check for genetic abnormalities. To their dismay, they learned their baby, Aria, had Turner's syndrome.
"We learned that I had a 98% chance of having a miscarriage," said Sarah.
Turner syndrome is the most common sex chromosome abnormality in females, occurring in 1 in 2,000 to 2,500 live female births. For the 2% of babies that survive, the syndrome can cause a variety of developmental problems, including short height, failure of ovaries to develop and heart defects.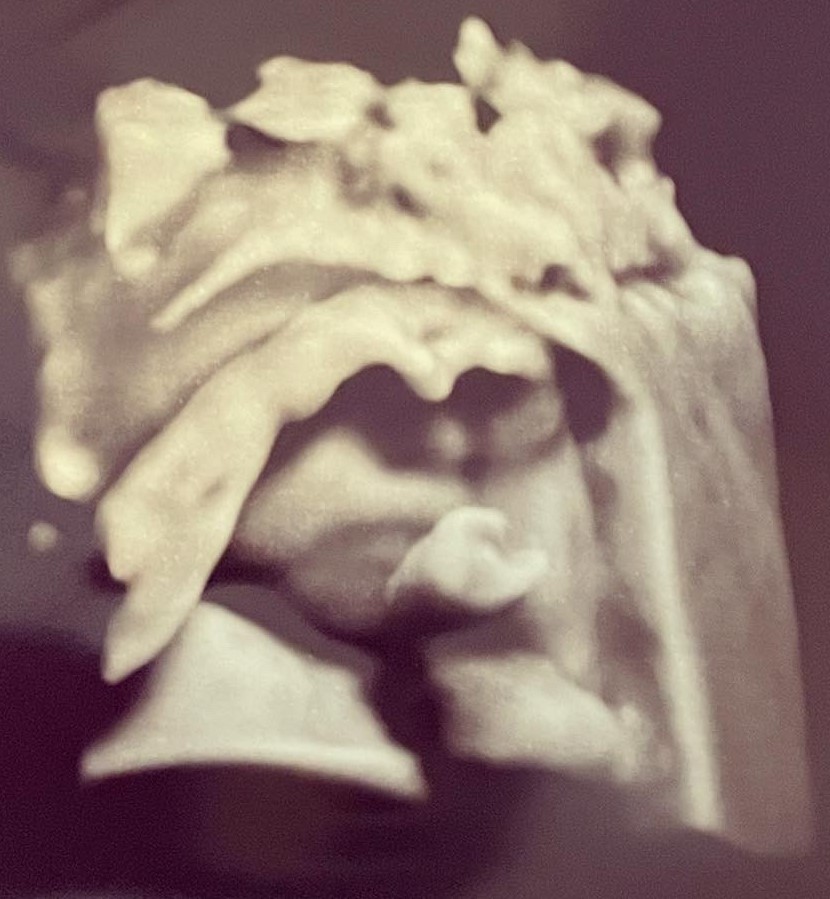 The Stensbys were quickly referred to the Midwest Fetal Care Center (MWFCC), a collaboration between Allina Health and Children's Minnesota.
"At that point, doctors agreed it was a good sign that Aria had made it to 12 weeks," said Sarah. "As the weeks wore on, things just kind of snowballed and spiraled from there."
More obstacles emerge
At 16-weeks gestation, an ultrasound revealed another diagnosis – an abnormal lung mass which was suspected to be a congenital pulmonary airway malformation, or CPAM. It's a mass of abnormal fetal lung tissue that's usually located in one lung and does not function as normal lung tissue.
"The mass in her lung grew very quickly over the next few weeks," Sarah said. "She had hydrops and we weren't sure if she was going to make it."
Hydrops is a condition where large amounts of fluid build-up in a baby's tissues and organs causing extensive swelling. Aria had fluid collections around her head and her belly. Over the next three weeks, MWFCC physicians prescribed weekly maternal steroid injections to shrink the lung mass and relieve the hydrops.
At one point, the mass on Aria's lung was so large it was compressing her heart and made it difficult for doctors to see it beating. Evaluating the heart was critical because half of patients with Turner's syndrome have some sort of heart defect. As the lung mass shrunk from the steroid injections, doctors were able to see Aria's heart on an echocardiogram and diagnosed her with coarctation of the aorta. This is a condition that occurs in 1 in 10 babies with Turner's syndrome and would require surgery shortly after birth.
The following weeks became a blur of twice-a-week scans and check-ins, evaluating new incoming data and routinely tweaking Aria's care plan with her family's team at the MWFCC.
"I can't even imagine what it would look like if we had to have all of Aria's issues discussed by different teams at different hospitals," Jesse said. "It would have been a nightmare. It was good to know that we had such a capable medical team working together."
While many specialty doctors weighed in during the pregnancy, the central care team for Sarah and baby Aria included Dr. Lisa Howley, director of the Fetal Cardiology Program; Dr. Joe Lillegard, pediatric general and thoracic surgeon; and Dr. Saul Snowise, maternal-fetal medicine specialist.
"Seeing all of these diagnoses together—it's exceptionally rare," said Dr. Howley. "Personally, I haven't seen it before, and I can't find it described in the medical literature. It's the kind of situation that you might see once in your career or once in a decade."
State of mind matters
Despite a guarded prognosis for Aria, Jesse and Sarah Stensby worked together to stay positive and hopeful through week after week of multiple check-ins.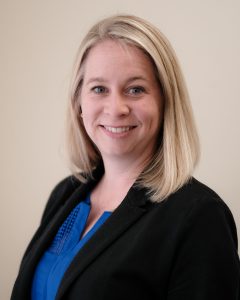 "It was a complete unknown, but never a hopeless situation," Sarah said. "When new challenges arose our care team would say, 'We can do this … and we can do this.'"
Jesse added, "It helped that we had complete confidence in our doctors. The only thing I could control is how I reacted, knowing we were so helpless the only thing I could control was my attitude."
Around 28-30 weeks of gestation, Aria received a fourth diagnosis – she stopped growing due to a condition called intrauterine growth restriction. This meant Aria's fetal weight was estimated to be below the 10th percentile for the gestational age.
At 33 weeks, Sarah was admitted to The Mother Baby Center at Abbott Northwestern and Children's Minnesota for three-times-a-day monitoring of Aria. She was there for eight days, reaching the goal of keeping Aria in-utero until 34 weeks gestation.
Aria's scheduled delivery ensured that every one of the specialty doctors and care team members would be present for the delivery.
"From nurses to social workers, we heard them say, 'We know about you, we've been expecting you, we've been planning for you for so long. We'll be ready when it's time,'" Sarah said.
The Stensbys were comforted that there was, "A back-up plan to the back-up plan." The medical care team had planned for every conceivable scenario. And yet with this unprecedented set of compounding complications, no one knew exactly what would happen until the moment arrived.
A birthday unlike any other
The day finally arrived, Jesse and Sarah were in the operating room (OR) watching their daughter's birthday come together in a rather unusual fashion.
"There were probably 40 people in the delivery room not including my wife and future daughter – it made things very real," Jesse said.
"This wasn't some medical TV show, but I felt like I was on 'Grey's Anatomy'," Sarah quipped.
After a swift and successful C-section delivery of 3-pound, 14-ounce Aria, she was whisked to the Children's Minnesota pediatric OR for immediate lung surgery. During surgery, Dr. Lillegard clearly saw that Aria's lung mass was not a CPAM, but instead an even rarer condition called bronchopulmonary sequestration (BPS). This was great news, as BPS is a far less threatening condition that can be easily corrected by removing the nonfunctioning tissue. This diagnosis meant Aria has two normal and fully-functioning lungs.
Once Aria recovered from lung surgery, she spent weeks in the neonatal intensive care unit (NICU) growing to 6 pounds to make her eligible for cardiac surgery to correct the coarctation of the aorta. The cardiac surgery was performed by Dr. David Overman, chief of the division of cardiovascular surgery at Children's Minnesota, and it was a success.
"I wasn't even concerned that there would be any issues with the heart surgery," Jesse said.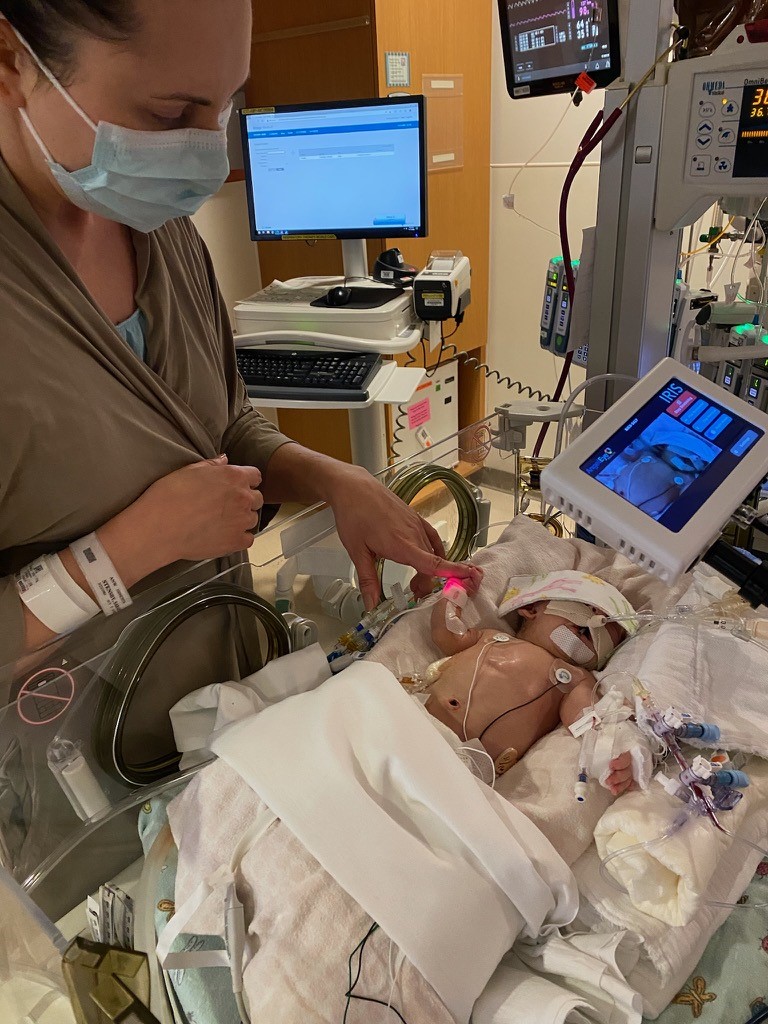 Just two weeks after her heart surgery, baby Aria was fully recovered and ready to go home with a special feeding tube placed into her stomach.
The early days at home took some adjustment and Aria endured some minor setbacks, including a respiratory infection and aspiration pneumonia that sent her back to Children's Minnesota's infant care center to recover. Once past those hurdles, Aria's parents shifted to becoming pros at taking care of her at home. Today, Aria continues to require frequent medications, gets nutrition via a feeding pump and has many appointments with various specialists. While not completely out of the woods, "It's great to be home and settled and we are blessed with support to help us through this time," said Sarah. "We sleep now. The fact that we are dealing with more normal things is a blessing at this point."
The MWFCC medical team explained that they could not be more proud of Aria and her parents. "Sarah and Jesse bravely faced overwhelming challenges during their pregnancy with an unwavering commitment to their daughter," said Dr. Howley. "What an incredible story about a very special little girl."
Aria's family shares her story with Fox 9