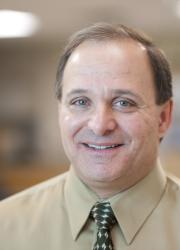 Robert Alan Sicoli, MD
Physician
(651) 220-6914
Specialties: Emergency Medicine, Pediatric
Professional History
Medical Education
MD - State University of NY at Buffalo
Buffalo, NY
1988

Residency/Fellowship
Residency - University Hospitals Rainbow Babies and Children's Hospital
Cleveland, OH
1991

Fellowship - Children's Hospital of Wisconsin
Milwaukee, WI
1993

Contact Information
Primary Location:
Childrens Minnesota Emergency Medicine
345 N Smith Ave STE 70-504
St Paul, MN 55102
(651)220-6914

Secondary Location(s):
Childrens Minnesota Emergency Medicine
2525 Chicago AVE S STE 32-1488
Minneapolis, MN 55404
(612)813-6843

Personal Biography
Robert Sicoli, MD is the medical director of the Children's Minneapolis and St Paul emergency departments. He attended medical school at the State University of NY - Buffalo School of Medicine and completed his pediatrics residency at Rainbow Babies and Children's Hospital, University Hospitals of Cleveland. Rob completed fellowship in pediatric emergency medicine at Children's Hospital of Wisconsin, Medical College of Wisconsin and joined Children's Minnesota in 1993. He is an actively practicing PEM physician and is responsible for the oversight of all aspects of emergency services across the system. Under his leadership, Children's has become a Level I Pediatric Trauma Center, three satellite ED services have been added, the ED Tele-medicine program was started and the Children's Critical Care Transport program was established. He is married and has two adult aged children. Each summer, he leads a 10 - 15 member team on a medical mission trip to Zambia and provides medical direction to a camp for young adults with autism in northern Minnesota.