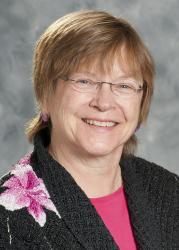 Katherine Farol Guthrie, MD
Physician
(651) 241-5200
Specialties: Family Medicine
Fluent Languages: Spanish
Professional History
Board Certification
Family Medicine - American Board of Family Medicine

Medical Education
MD - Georgetown University School of Medicine
Washington, DC
1976

Residency/Fellowship
Residency - Regions Hospital
St Paul, MN
1979

Contact Information
Primary Location:
Allina Health United Family Physicians Clinic
233 Grand Avenue
St Paul, MN 55102
(651)241-5200

Secondary Location(s):
Face to Face Clinic
1165 Arcade St
St Paul, MN 55106
(651)772-5555

Personal Biography
Dr Katherine Guthrie, MD has practiced as a faculty member of Allina Health United Family Medicine Residency in St Paul, MN since 1994. She had 13 years practice experience in rural family practice in Minnesota prior to joining the residency. She loves the breadth of family medicine and the joy of caring for extended families in all settings for 28 years, and continues to see people of all ages and backgrounds. She also loves mentoring and teaching young family physicians. She has special interest in complex diagnoses and situations. She speaks Spanish and less fluently Japanese.