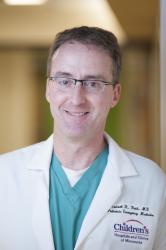 Samuel Richard Reid, MD
Physician
(651) 220-6914
Specialties: Emergency Medicine, Pediatric
Professional History
Board Certification
Emergency Medicine, Pediatric - American Board of Pediatrics

Pediatrics - American Board of Pediatrics

Medical Education
MD - University of Minnesota Medical School
Minneapolis, MN
1991

Residency/Fellowship
Residency - University of Minnesota Medical Center
Minneapolis, MN
1994

Fellowship - University of Minnesota Medical School
Minneapolis, MN
1996

Contact Information
Primary Location:
Childrens Minnesota Emergency Medicine
345 N Smith Ave STE 70-504
St Paul, MN 55102
(651) 220-6914

Personal Biography
Sam joined Children's Minnesota in 1996 after completing medical school, a pediatric residency and a pediatric emergency medicine fellowship at the University of Minnesota. His areas of research interests include dehydration, head injury and parental involvement in clinical decision making. He enjoys making 'outreach' visits to area clinics and hospitals on such topics as fever, dehydration, preparing the office for pediatric emergencies and literature reviews.