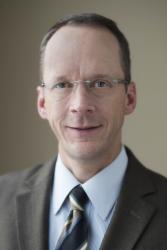 Charles Michael Baker, MD
Physician
(612) 813-8800
Specialties: Cardiology, Pediatric | Cardiology, Interventional Pediatric
Professional History
Board Certification
Cardiology, Pediatric - American Board of Pediatrics

Pediatrics - American Board of Pediatrics

Medical Education
MD - University of Minnesota Medical School
Minneapolis, MN
1991

Residency/Fellowship
Residency - University of Utah School of Medicine
Salt Lake City, UT

Fellowship - Boston Children's Hospital
Boston, MA

Contact Information
Primary Location:
Children's Heart Clinic
2530 Chicago Ave S STE 500
Minneapolis, MN 55404
(612) 813-8800

Secondary Location(s):
The Children's Heart Clinic- Duluth
400 E 3rd St
Duluth, MN 55805
800-642-0491

The Children's Heart Clinic- Fargo
3000 32nd Ave S
Fargo, ND 58103
(612) 813-8800

The Children's Heart Clinic
347 N Smith AVE STE 603
St Paul, MN 55102
(651) 220-8800

Personal Biography
Charles is Medical Director of Cardiology and has been a cardiologist with the Children's Heart Clinic since 2000. He attended medical school at the University of Minnesota. Completed his Pediatrics residency at the University of Utah, and Pediatric Cardiology fellowship training at Harvard Medical School/ Boston Children's Hospital. Special areas of interest and training include medically invasive repair of heart defects using trans catheter techniques, as well as complete evaluations via cardiac catheterization. Dr. Baker provides all aspects of cardiac care in both inpatient and outpatient settings.