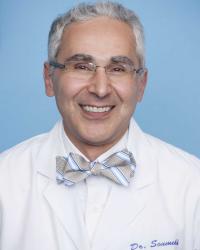 Benhoor Soumekh, MD
Physician
(612) 871-1144
Specialties: Otolaryngology | ENT, Otolaryngology
Fluent Languages: Farsi
Professional History
Board Certification
Otolaryngology - American Board of Otolaryngology

Medical Education
MD - University of Minnesota Medical School
Minneapolis, MN
1989

Residency/Fellowship
Residency - University of Minnesota Medical Center
Minneapolis, MN

Residency - University of Minnesota Medical Center
Minneapolis, MN

Fellowship - Rady Children's Hospital
San Diego, CA

Contact Information
Primary Location:
Ear Nose & Throat Specialty Care
2211 Park AVE
Minneapolis, MN 55404
(612) 871-1144

Secondary Location(s):
Ear Nose & Throat Specialty Care
6545 France AVE S STE 650
Edina, MN 55435-2126
(952) 925-3905

Ear Nose & Throat Specialty Care
2805 Campus DR STE 205
Plymouth, MN 55441
(612)871-1144

Personal Biography
Benhoor Soumekh, MD. is a pediatric otolaryngologist at Ear, Nose, and Throat Specialty Care of Minnesota. He received his Bachelor's degree and Master's degree in electrical engineering from the University of Minnesota Institute of Technology. He attended medical school at the University of Minnesota where he completed his residency in otolaryngology and head and neck surgery as well as receiving a Master's degree in his specialty. After completing a his fellowship training in pediatric otolaryngology at Children's Hospital of San Diego in 1996, Ben returned to the Twin Cities. He is a part of the professional staff at Children's Minnesota and has previously served as Chief of the Surgery for the hospital. Ben's main interests include pediatric airway disease, hearing loss, ear diseases, sinus diseases, and neck masses. Ben is married and has two children.