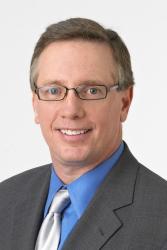 Christopher John Tolan, MD
Physician
(651) 702-0750
Specialties: Otolaryngology | ENT, Otolaryngology
Professional History
Board Certification
Otolaryngology - American Board of Otolaryngology

Medical Education
MD - University of Minnesota Medical School
Minneapolis, MN
1991

- University of Minnesota Duluth
Duluth, MN

Residency/Fellowship
Residency - University of Minnesota Medical Center
Minneapolis, MN
1996

Fellowship - University of California Davis School of Medicine
Sacramento, CA

Contact Information
Primary Location:
Midwest Ear Nose & Throat Specialists
2080 Woodwinds Dr STE 240
Woodbury, MN 55125
651-702-0750

Secondary Location(s):
Midwest Ear Nose & Throat Specialists
1675 Beam Ave #200
Maplewood, MN 55109
(651)770-1105

MapleTree Pediatric Dentistry
1915 County Rd D East
Maplewood, MN 55109

Midwest Ear Nose & Throat Specialists
225 N Smith Ave STE 502
St Paul, MN 55102
(651) 645-0691

Childrens Minnesota Craniofacial Center
347 N Smith Ave STE 404
St Paul, MN 55102
(612)813-6888

Personal Biography
Dr. Tolan graduated from the University of Minnesota Medical School in 1991. He completed his residency at the University of Minnesota Hospitals and Clinics in Otolaryngology Head and Neck Surgery. In Medical School he became interested in plastic surgery after observing children with congenital facial deformities such as cleft lip and palate that had undergone repair. Intrigued by the apparent magical ability to restore a child's cleft lip with surgery, Dr. Tolan decided to dedicate his residency training and clinical practice to reconstructive and cosmetic surgery of the face and neck. Dr. Tolan completed a fellowship in facial plastic and reconstructive surgery at the University of California Davis Medical Center in Sacramento, California. He then returned to the Minneapolis / St. Paul Twin Cities areas to practice all aspects of facial plastic surgery. He has received board certification from two prominent organizations: the American Board of Facial Plastic and Reconstructive Surgery and the American Board of Otolaryngology and Head & Neck Surgery.