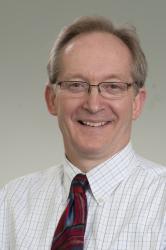 Kent Wayne Wegmann, MD
Physician
(651) 220-6700
Specialties: Pediatrics
Video: Watch Video Profile
Professional History
Board Certification
Pediatrics - American Board of Pediatrics

Medical Education
MD - Indiana University School of Medicine
Indianapolis, IN
1981

Residency/Fellowship
Residency - University of Minnesota Medical School
Minneapolis, MN
1984

Fellowship - University of Minnesota Medical School
Minneapolis, MN
1985

Contact Information
Primary Location:
Childrens Minnesota Primary Care
347 N Smith AVE STE 70-302
St Paul, MN 55102
(651) 220-6700

Personal Biography
Kent Wegmann, M.D., is currently the Medical Director for the St Paul outpatient pediatric clinic of Children's Minnesota. He has been practicing pediatrics at Children's since 1986. Dr. Wegmann completed medical school at Indiana University and his pediatric residency at the University of Minnesota. His area of interest includes the full spectrum of pediatric care. He also is involved with the education of medical students and residents in the outpatient setting.