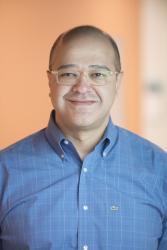 Jawhar Rawwas, MD
Physician
(612) 813-5940
Specialties: Hematology and Oncology, Pediatric
Fluent Languages: Arabic
Video: Watch Video Profile
Professional History
Board Certification
Hematology and Oncology, Pediatric - American Board of Pediatrics

Pediatrics - American Board of Pediatrics

Medical Education
MD - American University of Beirut
Beirut
1989

Residency/Fellowship
Residency - Upstate University Hospital Graduate Medical Education
Syracuse, NY
1992

Fellowship - University of Michigan Health System
Ann Arbor, MI
1995

Contact Information
Primary Location:
Childrens Minnesota Hematology Oncology
2530 Chicago Ave S CSC 175
Minneapolis, MN 55404
(612)813-5940

Secondary Location(s):
Childrens Minnesota Hematology Oncology
345 N Smith Ave STE 70-301
St Paul, MN 55102
(651) 220-6732

Personal Biography
Jawhar Rawwas, MD. attended medical school at the American University of Beirut in Lebanon. He completed his pediatric residency at the State University of New York Health Science Center in Syracuse, New York. His pediatric hematology/oncology fellowship was completed at the University of Michigan in Ann Arbor, Michigan in 1995. His interests include neuroblastoma, solid tumors, and applications of precision medicine in pediatric oncology.