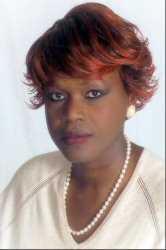 R Angela Wandera, DDS MS
Dentist
(952) 941-7393
Specialties: Dentistry, Pediatric | Dentistry, Orthodontics
Fluent Languages: Swahili
Professional History
Board Certification
Dentistry, Pediatric - American Board of Pediatric Dentistry

Professional Education
Dentistry - University of Nairobi
Nairobi
1987

Residency/Fellowship
Residency - University of Minnesota School of Dentistry
Minneapolis, MN
1992

Residency - University of Minnesota School of Dentistry
Minneapolis, MN
2002

Fellowship - University of Missouri Kansas City School of Dentistry
Kansas City, MO
1994

Contact Information
Primary Location:
Dr Angela Wandera and Associates
8785 Columbine RD
Eden Prairie, MN 55344
(952) 941-7393

Personal Biography
Angela Wandera is a dual-specialist in Orthodontics and Pediatric Dentistry practicing in Eden Prairie, Minnesota. She believes that our investment in the well-being of children and youth is the most valuable gift we can offer society and the future. Her sojourn in teaching and academics includes – University of Nairobi - University of Minnesota of which she is an alumna - University of Missouri Kansas City – and the University of Michigan during which she presented at continuing education courses and authored multiple scholarly articles. She is currently faculty in Dentistry at Hennepin County Medical Center, Minneapolis. In private practice, she has worked in Nairobi, Inver Grove Heights, Minneapolis, and now in her own clinic in Eden Prairie where her patients continue to give her daily joy. Her passion for service is fed by volunteerism through Rotary International and includes appointments to Editorial Boards in "Pediatric Dentistry" and "Journal of Dentistry for Children" – both premier journals of the specialty. Dr. Wandera enjoys travel and the arts, with Italy as her favorite destination.