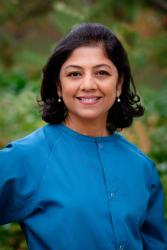 Gayathri Sambasivan, DDS
Dentist
(952) 831-4400
Specialties: Dentistry, Pediatric
Fluent Languages: Tamil
Professional History
Board Certification
Dentistry, Pediatric - American Board of Pediatric Dentistry

Medical Education
DDS - Madras Medical College Tamil Nadu Government Dental College
Chennai
1991

Residency/Fellowship
Residency - University of Minnesota Medical Center
Minneapolis, MN
1995

Fellowship - University of Kentucky Medical Center
Lexington, KY
1996

Contact Information
Primary Location:
Dentistry for Children and Adolescents
7373 France Ave S STE 402
Edina, MN 55435
(952)831-4400

Secondary Location(s):
Dentistry for Children and Adolescents
6060 Clearwater Dr STE 210
Minnetonka, MN 55343
(952)932-0920

Personal Biography
Dr. Gayathri Sambasivan received her dental degree from the University of Madras, India in 1991. After completing a general dentistry residency and two years in private practice, she moved to Minnesota to specialize in pediatric dentistry. She received a certificate in pediatric dentistry and a master's degree at the University of Minnesota. She then completed a fellowship at Kosair Children's Hospital, University of Kentucky. Following the fellowship, she joined the University of Minnesota, School of Dentistry as a full -time faculty member. During her career as a faculty member, she served as the Undergraduate Program Director in Pediatric Dentistry and a member of the Craniofacial Anomalies Clinic. She was especially involved in the care of children with special needs and medically compromising conditions. She worked with the university's Community Clinic providing care for underprivileged children. She is a Fellow in the American Academy of Pediatric Dentistry, a Diplomate of the American Board of Pediatric Dentistry and is board certified in the specialty of pediatric dentistry. Dr. Sambasivan consults for Children's Hospitals & Clinics and was a member of their Craniofacial Anomalies Clinic. She enjoys traveling, music, reading and spending time with her husband, Sriram, and their two sons.