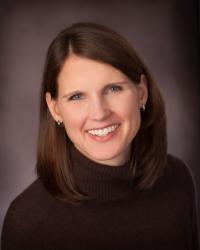 Tracie Farrell Dodig, MD
Physician
(952) 473-0211
Specialties: Pediatrics
Professional History
Medical Education
MD - University of Minnesota Medical School
Minneapolis, MN
1999

Residency/Fellowship
Residency - University of Minnesota Medical Center
Minneapolis, MN
2002

Contact Information
Primary Location:
Wayzata Childrens Clinic
14001 Ridgedale Dr STE 100
Minnetonka, MN 55305
(952) 473-0211

Secondary Location(s):
Wayzata Childrens Clinic
4695 Shoreline Dr STE A
Spring Park, MN 55384
(952) 495-8910

Personal Biography
Tracie grew up in Edina, and graduated summa cum laude from Miami University in Ohio. She earned her Bachelor of Arts degree in History in 1994, then took a year off and went to Lake Tahoe, California, to be a children's ski instructor at Squaw Valley. Dr. Dodig then returned "home" for medical school at the University of Minnesota, graduating in 1999. While she officially started at the Wayzata Children's Clinic in 2003, she was already well-known to many of our families, as she did her weekly continuity clinic here throughout her three years of pediatric residency (also through the U of M). Dr. Dodig is Board Certified in Pediatrics, and her clinical interests include adolescent and sports medicine. She also volunteers annually as a camp doctor at a summer camp in northern Minnesota, and is on the camp's Board of Directors. Tracie, her husband Jay, and sons Jimmy and Matthew live in Minneapolis and spend their free time skiing (downhill, cross-country, even helicopter!), in the hockey rink, and at their family cabin in Wisconsin.