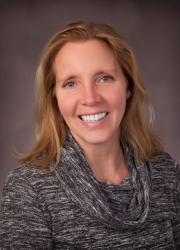 Martha Ruth Engelbrekt, MD
Physician
(952) 473-0211
Specialties: Pediatrics
Professional History
Medical Education
MD - University of California San Diego School of Medicine
La Jolla, CA
2002

Residency/Fellowship
Residency - University of Wisconsin Madison
Madison, WI
2005

Contact Information
Primary Location:
Wayzata Childrens Clinic
14001 Ridgedale Dr STE 100
Minnetonka, MN 55305
(952) 473-0211

Secondary Location(s):
Wayzata Childrens Clinic
111 Hundermark Rd STE 420
Chaska, MN 55318
(952) 448-3847

Personal Biography
Martha was born in Rochester, Minnesota and raised in Edina, Minnesota, but traveled west to California to attend Stanford University where she earned a Bachelor of Arts degree in Human Biology in 1990. Martha then spent three years doing research at the Palo Alto Veteran's Administration Hospital, and another three years working in marketing and sales for the San Jose Sharks. She switched gears, completed pre-medical training, and graduated from the University of California, San Diego medical school in 2002. Dr. Engelbrekt then migrated back to the Midwest to complete her pediatric residency in 2005 from the University of Wisconsin, Madison. She finally returned "home" and joined the Wayzata Children's Clinic in 2005. She became the clinic's President through 2017. Dr. Engelbrekt is Board Certified in Pediatrics. She lives in Eden Prairie with her husband Blair, son Jack and daughter Brooke. Martha is an avid sports fan and spends most of her free time with family.