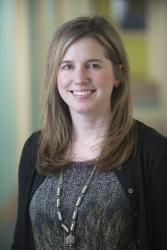 Sarah Joy Jerstad, LP PhD
Psychologist
(651) 220-6720
Specialties: Psychology, Child
Professional History
Professional Education
PhD - University of Minnesota - Department of Psychology
Minneapolis, MN
2004

Residency/Fellowship
Fellowship - University of Minnesota Medical Center
Minneapolis, MN
2006

Contact Information
Primary Location:
Childrens Minnesota Psychological Services
347 N Smith Ave 70-301
St Paul, MN 55102
(651) 220-6720

Personal Biography
Sarah Jerstad, PhD, LP, earned her degree in counseling psychology from the University of Minnesota in 2004, followed by a predoctoral clinical internship at the Denver Health Medical Center specializing in child and adolescent mental health and medical psychology. Following her internship, Dr. Jerstad completed a two-year postdoctoral fellowship at the University of Minnesota in the division of pediatrics and adolescent health focusing on the treatment of eating disorders, as well as advocacy and leadership in adolescent health. She has been with Children's Minnesota since September 2006 with a focus on outpatient therapy for children and adolescents and also works with medical inpatients. Dr. Jerstad spent over 5 years working with patients and families from hematology/oncology, and now works with high-risk diabetes patients to help with coping and management of their illness. Dr. Jerstad is also a certified therapist and level 1 trainer in Parent Child Interaction Therapy (PCIT). Dr. Jerstad enjoys supervising psychology interns for the APA approved internship program as well as postdoctoral fellows. She has also been involved in medical education, teaching seminars to medical students and presenting grand rounds in the community. Her lecture topics include psychological aspects of chronic illness as well as a number of adolescent issues, including eating disorders, romantic relationships, brain development, and depression. Dr. Jerstad is the Associate Clinical Director for Psychological Services in St. Paul.