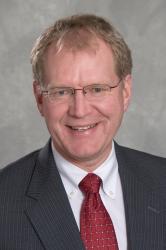 Peter John Dehnel, MD
Physician
(320) 251-2700
Specialties: Pediatrics
Professional History
Board Certification
Pediatrics - American Board of Pediatrics

Medical Education
MD - University of Minnesota Medical School
Minneapolis, MN
1982

Residency/Fellowship
Residency - University of Minnesota Medical Center
Minneapolis, MN
1985

Contact Information
Primary Location:
St. Cloud Hospital
1406 6th Ave N
St Cloud, MN 56303
(320)251-2700

Secondary Location(s):
All About Children Pediatrics
12200 Middleset Rd STE 100
Eden Prairie, MN 55344
(952) 943-8200

Personal Biography
Peter Dehnel, MD, is a senior health care executive with broad medical director experience in health insurance, a physician hospital organization, policy and advocacy development and health care delivery. He is currently serving as a medical director for Amerigroup – Minnesota Alliance, which is a new project in partnership with BlueCross BlueShield of Minnesota, managing government programs for the state. He is also serving as a medical director and hospitalist for CentraCare Health in Minnesota and as a medical director for the Physician Advocacy Network, also based in Minnesota.