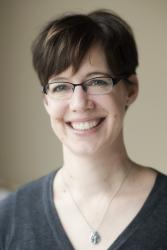 Kendra Lynn Gram, MD
Physician
(612) 813-3300
Specialties: Critical Care, Pediatric
Professional History
Board Certification
Critical Care, Pediatric - American Board of Pediatrics

Pediatrics - American Board of Pediatrics

Medical Education
MD - University of Minnesota Medical School
Minneapolis, MN
2001

Residency/Fellowship
Residency - University of Minnesota Medical Center
Minneapolis, MN
2004

Fellowship - University of Minnesota Medical Center
Minneapolis, MN
2007

Contact Information
Primary Location:
Childrens Respiratory & Critical Care Specialists
2530 Chicago Ave S STE 400
Minneapolis, MN 55404
(612) 813-3300

Personal Biography
Dr. Gram graduated from the College of St. Catherine in St. Paul, MN with a degree in biology. She attended medical school at the University of Minnesota, where she also completed her pediatric residency. She completed a fellowship in pediatric critical care medicine with a strong emphasis in cardiovascular intensive care. Her special medical interests include enhancing multidisciplinary care and teamwork in cardiovascular intensive care units and medical simulation for the purposes of education and ongoing training. Additionally, Dr. Gram has a strong interest in extracorporeal membrane oxygenation (ECMO) and other heart assist devices, and serves as the Medical Director for Children's extracorporeal membrane oxygenation program. She is board certified in both general pediatrics and pediatric critical care medicine.