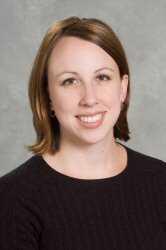 Julia Lee Doss, LP PsyD
Psychologist
(612) 326-4234
Specialties: Psychology, Child
Professional History
Professional Education
- Illinois School of Professional Psychology
Chicago, IL
2005

Residency/Fellowship
Fellowship - Marshfield Clinic
Marshfield, WI
2007

Contact Information
Primary Location:
DOSS Clinic of Health Psychology
7400 Metro Blvd STE 100
Minneapolis, MN 55439
(612)326-4234

Personal Biography
Julia Doss, PsyD. Is a pediatric psychologist with the Minnesota Epilepsy Group, PA., and consultant to Children's of Minnesota. She completed her graduate training at the Illinois School of Professional Psychology in Chicago, IL. Julia completed her pediatric psychology fellowship at the Marshfield Clinic in Marshfield, WI. Her areas of interest include working with children struggling with chronic illness, treatment of anxiety disorders and conversion disorders; specifically non-epileptic seizures.