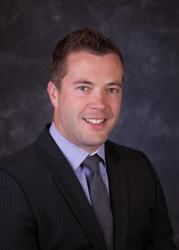 Brian Elmer Grove, DDS
Dentist
(651) 224-4969
Specialties: Dentistry, Pediatric
Professional History
Board Certification
Dentistry, Pediatric - American Board of Pediatric Dentistry

Medical Education
DDS - University of Minnesota School of Dentistry
Minneapolis, MN
2001

Professional Education
MS - University of Minnesota School of Dentistry
Minneapolis, MN
2006

Residency/Fellowship
Residency - University of Minnesota School of Dentistry
Minneapolis, MN
2006

Contact Information
Primary Location:
Metropolitan Pediatric Dental Associates
1021 Bandana Blvd E STE 121
St Paul, MN 55108
(651) 224-4969

Secondary Location(s):
Metropolitan Pediatric Dental Associates
700 Village Center Dr
North Oaks, MN 55127
(651) 484-8611

Personal Biography
Dr. Brian Grove grew up in White Bear Lake, Minnesota and graduated from the University of Minnesota School of Dentistry in 2001. After three years as a general dentist, he completed his Certificate in Pediatric Dentistry and Master's Degree from Minnesota in 2006. Dr. Grove, then, taught for four years and worked mainly with children with special health care needs at Boston Children's Hospital and Harvard Dental School before returning to his home state in 2010. Dr. Grove is a diplomate of the American Board of Pediatric Dentistry and is a member of the American Dental Association and the Minnesota Dental Association. Dr. Grove recently completed his eighth marathon and enjoys outdoor recreation, traveling, music of all kinds, cooking, and eating out with friends and family.