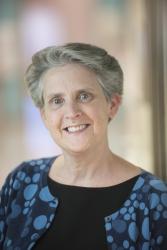 Anne Elizabeth Bendel, MD
Physician
(612) 813-5940
Specialties: Hematology and Oncology, Pediatric
Video: Watch Video Profile
Professional History
Board Certification
Hematology and Oncology, Pediatric - American Board of Pediatrics

Medical Education
MD - University of Minnesota Medical School
Minneapolis, MN
1987

Residency/Fellowship
Residency - University of Minnesota Medical Center
Minneapolis, MN
1990

Fellowship - University of Minnesota Medical Center
Minneapolis, MN
1993

Contact Information
Primary Location:
Childrens Minnesota Hematology Oncology
2530 Chicago Ave S CSC 175
Minneapolis, MN 55404
(612) 813-5940

Secondary Location(s):
Childrens Minnesota Hematology Oncology
345 N Smith Ave STE 70-301
St Paul, MN 55102
(651) 220-6732

Personal Biography
Anne Bendel, MD is a Pediatric Hematologist/Oncologist who specializes in the treatment of Central Nervous System (CNS) Tumors of children and young adults. She completed medical school, pediatric residency and pediatric hematology/oncology fellowship training at the University of Minnesota. She joined Children's Minnesota in 1994. Anne is the director of the Neuro-Oncology Program at Children's Minnesota where she manages the diagnosis, treatment and follow-up of patients with CNS tumors. She runs a multidisciplinary Neuro-Oncology Clinic several times a month, which provides coordinated care for patients with CNS tumors and includes assessment by the following disciplines: oncology, neurosurgery, endocrinology, neurology, physical therapy, occupational therapy, sleep, nutrition, pharmacy, child life and social work. Anne practices on both the Mpls and St Paul campuses of Children's Minnesota. Anne also has a strong interest in the tumors seen in neurofibromatosis and other neurocutaneous syndromes. Anne also is very active in clinical research and is an active member in the Children's Oncology Group and the Pacific Pediatric Neurooncology Consortium which offers Children's Minnesota patients access to multiple national neurooncology clinical trials.