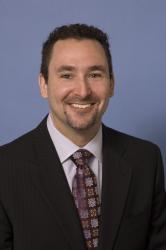 Jonathan Todd Pribila, MD
Physician
(952) 993-3150
Specialties: Ophthalmology, Pediatric
Professional History
Board Certification
Ophthalmology - American Board of Ophthalmology

Medical Education
MD - University of Minnesota Medical School
Minneapolis, MN
2005

Professional Education
PhD - University of Minnesota Department Otolaryngology-Head and Neck Surgery
Minneapolis, MN
2005

Residency/Fellowship
Residency - University of Michigan Medical School
Ann Arbor, MI
2009

Fellowship - University of Minnesota Medical Center
Minneapolis, MN
2010

Contact Information
Primary Location:
Park Nicollet- Ped. Ophthalmology
3900 Park Nicollet Blvd
St Louis Park, MN 55416
(952) 993-3150

Secondary Location(s):
Park Nicollet
14000 Fairview DR
Burnsville, MN 55337
(952) 993-3150

Personal Biography
As a pediatric ophthalmologist, I see children with a broad range of eye problems ranging from determining the need for glasses to identifying tumors in the eye. We commonly see children with blocked tear ducts, periocular infections and inflammation in their eyes. Misalignment of the eyes is one of the most common conditions in children. It can also occur in adults causing double vision. My practice specializes in the surgical re-alignment of the eye in both children and adults. While ophthalmology is an exciting and challenging field, it is the interactions that I have with each of my patients on a daily basis that makes it rewarding.