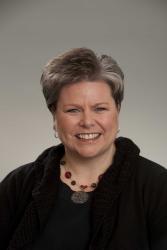 Julie Anne Blabolil, APRN CPNP-PC
Nurse Practitioner - Pediatric
(612) 813-5940
Specialties: Hematology and Oncology, Pediatric
Professional History
Board Certification
Primary Care, Certified Pediatric Nurse Practitioner - Pediatric Nursing Certification Board

Professional Education
MSN - St Catherine University
St Paul, MN
1999

Contact Information
Primary Location:
Childrens Minnesota Hematology Oncology
2530 Chicago Ave S CSC 175
Minneapolis, MN 55404
(612) 813-5940

Secondary Location(s):
Childrens Minnesota Hematology Oncology
345 N Smith Ave STE 70-301
St Paul, MN 55102
(651) 220-6732

Personal Biography
My name is Julie Pape Blabolil and I am a Pediatric Nurse Practitioner at Children's Minnesota. During my career I have worked in a variety of clinical settings including inpatient pediatric oncology, child maltreatment and neglect as well as a program for runaway teens. In 2015 I returned to my first love which is working in the Cancer and Blood Disorders Program at Children's. Throughout my career, I have also had the opportunity to work in various leadership positions. Early in my career as a nurse, I led a staff of more than 50 on a busy inpatient unit providing care for children who required an inpatient stay for a variety of health care needs including treatment for cancer. Later in my career, I was asked to run a Training and Technical Assistance Center for the twelve states in the Midwest region supported by a grant through the US Department of Justice. The purpose of the Regional Center was to support individuals and communities who were working to enhance their response to child abuse. This opportunity led me to Washington, D.C. where I served as the first Director of Programs for National Children's Alliance (NCA), the national organization of child advocacy centers. My responsibilities included development of a national computerized case tracking system for local programs to track services provided to children they served, public speaking, oversight of our services to members including accreditation as well as to administer a multi-million dollar grants to program effort. Each of these experiences has led me to where I am today.