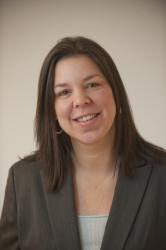 Anne-Marie Perry, PA-C
Physician Assistant
(612) 813-6843
Specialties: Trauma Services
Fluent Languages: Spanish
Professional History
Board Certification
Physician Assistant - National Commission on Certification of Physician Assistants

Professional Education
PA-C - Philadelphia University
Philadelphia, PA
2005

Contact Information
Primary Location:
Children's Minnesota Trauma Services
2525 Chicago Ave S 32-1488
Minneapolis, MN 55404
(612)813-6843

Secondary Location(s):
Childrens Minnesota Emergency Medicine
2525 Chicago AVE S STE 32-1488
Minneapolis, MN 55404
(612) 813-6843

Personal Biography
Anne-Marie Perry, MS, PA-C is a member of the Pediatric Trauma service at Children's Minnesota at the Minneapolis Campus. She completed her physician assistant studies and obtained her master's degree from Philadelphia University. Her areas of interest include care of hospitalized trauma patients, surgical care of fractures, orthopedic injuries, pediatric emergency care, and cultural competence in health care.