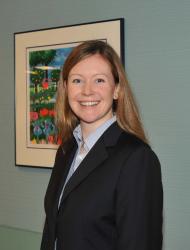 Jennifer Casey Laine, MD
Physician
(651) 578-5061
Specialties: Orthopedic Surgery, Pediatric | Trauma Services | Surgery, Orthopedic Pediatric
Professional History
Board Certification
Orthopedic Surgery - American Board of Orthopaedic Surgery

Medical Education
MD - Columbia University College of Physicians and Surgeons
New York, NY
2005

Residency/Fellowship
Residency - University of California San Francisco
San Francisco, CA
2010

Fellowship - Texas Scottish Rite Hospital for Children
Dallas, TX
2011

Contact Information
Primary Location:
Gillette Childrens Pediatric Orthopedics
200 University AVE E
St Paul, MN 55101
(651)578-5061

Secondary Location(s):
Childrens Minnesota Orthopedics
2530 Chicago Ave S STE G070
Minneapolis, MN 55404
(651)220-5700

Personal Biography
Jennifer is a staff pediatric orthopaedic surgeon with Gillette Children's Specialty Healthcare and with Children's of Minnesota. She attended medical school at the Columbia University College of Physicians and Surgeons in New Your City. She completed her residency training in orthopaedic surgery at the University of California, San Francisco. Dr. Laine completed a fellowship in pediatric orthopaedic surgery at Texas Scottish Rite Hospital for Children in Dallas. Originally from St. Paul, MN, she was eager to return to the Twin Cities upon the completion of her training. Her areas of interest are: limb deformity, developmental dysplasia of the hip, Legg-Calve-Perthes disease, foot and ankle conditions, neuromuscular disorders and traum/fractures, as well as teaching residents and medical students.