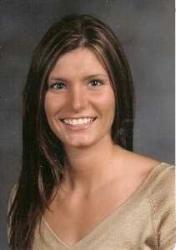 Megan Marie Kinder, DDS
Dentist
(715) 808-0460
Specialties: Dentistry, Pediatric
Professional History
Board Certification
Dentistry, Pediatric - American Board of Pediatric Dentistry

Medical Education
DDS - University of Minnesota School of Dentistry
Minneapolis, MN
2010

Residency/Fellowship
Residency - Children's Hospital Colorado
Aurora, CO
2012

Contact Information
Primary Location:
St Croix Kidds Pediatric Dentistry
400 2nd St S STE 250
Hudson, WI 54016
(715)808-0460

Secondary Location(s):
Blaine Kidds Pediatric Dentistry
1351 113th Ave NE STE 400B
Blaine, MN 55434
763-415-1222

New Richmond Kidds Pediatric Dentistry
1244 N 4th St STE 300
New Richmond, WI 54017
715-248-2246

Personal Biography
Dr. Megan is a board-certified pediatric dentist and a Diplomate of the American Board of Pediatric Dentistry. She is also on staff and maintains privileges at Children's Hospitals and Clinics of Minnesota where she is able to provide comprehensive dental treatment under general anesthesia for young children with extensive dental needs or children with special health care needs. She obtained her BA in biology from the University of Wisconsin-Madison (Go Badgers!). She then went on to receive her Doctor of Dental Surgery degree from the University of Minnesota School of Dentistry and was immediately accepted into the pediatric specialty residency at The Children's Hospital Colorado in Denver. Being one of the top ranked children's hospitals in the United States, Dr. Megan had an exceptional opportunity to focus on children with special needs and a wide range of medical conditions and completed Laser Proficiency Certification in hard and soft tissue lasers. Dr. Megan is thrilled to be back in Wisconsin with her family and friends. In her free time, Dr. Megan enjoys spending time with her husband, J.P., their children, Summer & Jack, and their red lab, Bear. She also enjoys biking, hiking, camping or canoeing outdoors as much as the Midwest weather permits. She is an avid Wisconsin Badger fan from her days in Madison and always tries to make at least one football game a season. Dr. Megan combines her academic background, research experience, clinical skills and love of children to provide the best possible care to all her patients. She believes that each and every patient deserves the same care she would give her own children. She and her team work to ensure a personal and positive dental experience for each and every family. She believes her role as a pediatric dentist is critical in making children's early dental experiences positive that will ensure a lifelong commitment to dental health. She is passionate about always learning and stays busy with continuing education on the latest areas of dentistry.