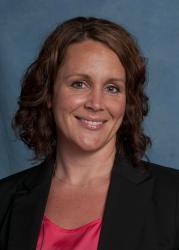 Jennifer Lea Worley, APRN CPNP-PC PMHS
Nurse Practitioner - Pediatric
(612) 813-7888
Specialties: Trauma Services
Professional History
Board Certification
Mental Health Specialist, Pediatric Primary Care - Pediatric Nursing Certification Board

Primary Care, Certified Pediatric Nurse Practitioner - Pediatric Nursing Certification Board

Professional Education
MA - St Catherine University
St Paul, MN
2012

Contact Information
Primary Location:
Childrens Minnesota Midwest Childrens Resource Center
345 N Smith AVE STE 70-401
St Paul, MN 55102
(612) 813-7888

Secondary Location(s):
Childrens Minnesota Integrative Medicine
2525 Chicago AVE S STE 32-T5
Minneapolis, MN 55404
(612) 813-7888

Minnesota Clinical Research Center
2550 University Ave S STE 423S
St Paul, MN 55114
(612) 870-5719

Personal Biography
Jennifer Worley is an Advance Practice Registered Nurse (APRN-CNP) with the Midwest Children's Resource Center at Children's of Minnesota. She received her Bachelor's and Master's degrees in Nursing from St. Catherine University in St Paul, MN. Jennifer has worked at Children's Minnesota since 2006, where she began as a registered nurse in Surgical Services. She transitioned to Trauma Services as an APRN following completion of graduate studies and certification as Pediatric Nurse practitioner in 2013. Jennifer joined the Pain, Palliative, and Integrative Medicine team in 2015. She developed an interest in adolescent medicine and combined experience from those two specialties before moving to Midwest Children's Resource Center in 2017. She is also a registered yoga teacher (RYT-200) and is currently pursuing a 500 hour teacher certificate through Yoga Medicine.