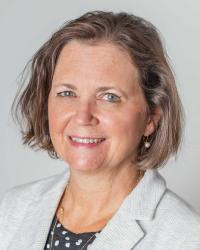 Cynthia Jean Brady, DNP APRN CPNP-AC/PC
Nurse Practitioner - Pediatric
(612) 813-3340
Specialties: Pulmonology, Pediatric
Professional History
Board Certification
Acute Care, Certified Pediatric Nurse Practitioner - Pediatric Nursing Certification Board

Primary Care, Certified Pediatric Nurse Practitioner - Pediatric Nursing Certification Board

Professional Education
APRN CNP DNP - University of Minnesota School of Nursing
Minneapolis, MN
1994

MS - University of Minnesota School of Nursing
Minneapolis, MN
1995

Contact Information
Primary Location:
Childrens Respiratory & Critical Care Specialists
2530 Chicago Ave S STE 400
Minneapolis, MN 55404
612-813-3340

Secondary Location(s):
Childrens Respiratory & Critical Care Specialists
310 N Smith AVE STE 460
St Paul, MN 55102
(651) 220-7000

Personal Biography
Cynthia Brady, APRN, DNP, CPNP, AC, PC is a Pediatric Nurse Practitioner with Children's Respiratory and Critical Care Specialists (CRCCS). Cindy holds a BSN from Loyola University of Chicago and a Doctorate in Nursing Practice from the University of Minnesota. She is dually certified as an acute and Primary Care Pediatric Nurse Practitioner. Her areas of interest include Chronic Lung Disease of Infancy, difficult to manage Asthma, Cystic Fibrosis and Sickle Cell Disease with an emphasis on quality and monitoring outcomes. She has been a member of several professional staff committees, including Research and Education, and Pharmacy and Therapeutics. Nationally, she served on the Cystic Fibrosis Foundation's Education and Pulmonary Guidelines committees. She is a frequent speaker both locally and nationally on topics such as asthma, Cystic Fibrosis, Chronic Lung disease of Infancy and Sickle Cell Disease. Her current interest in pulmonary compilations of Sickle Cell Disease draws on her extensive experience and knowledge of successful models of care for Asthma and Cystic Fibrosis.