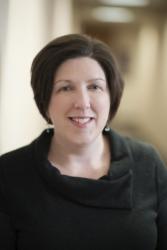 Helene Keery, LP PhD
Psychologist
(612) 813-7179
Specialties: Psychology, Child | Eating Disorders
Professional History
Professional Education
PhD - University of South Florida
Tampa, FL
2002

Residency/Fellowship
Fellowship - University of Minnesota Medical Center
Minneapolis, MN
2003

Contact Information
Primary Location:
Childrens Minnesota Eating Disorders Clinic
345 N Smith Ave 70-301
St Paul, MN 55102
(612) 813-7179

Personal Biography
Helene Keery, PhD, LP is a clinical psychologist in the center for the treatment of Eating Disorders. Her interest in eating disorders began in college and continued through her graduate studies at the University of South Florida, where she received her PhD in 2002. Her research interests are on the influences of the development of eating disorders. Dr. Keery completed her internship at the University of Florida, with a specialty in child/pediatric psychology. She went on to complete the Leadership Education in Adolescent Health Fellowship at the University of Minnesota. She has been trained in cognitive behavior therapy- enhanced, family based therapy, interpersonal therapy, and the Unified Protocol for the Transdiagnostic Treatment of Emotional Disorders.