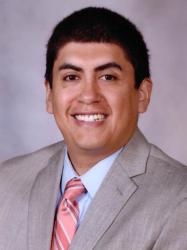 Marcelo Paul Vargas, MD
Physician
(612) 813-7240
Specialties: Genetics/Genomics | Genetics/Genomics, Medical | Genetics/Genomics, Medical Biochemical
Professional History
Board Certification
Clinical Genetics - American Board of Medical Genetics and Genomics

Medical Biochemical Genetics - American Board of Medical Genetics and Genomics

Pediatrics - American Board of Pediatrics

Medical Education
MD - Rutgers, New Jersey Medical School
Newark, NJ
2007

Residency/Fellowship
Residency - St Christopher's Hospital for Children
Philadelphia, PA

Fellowship - Mayo Clinic
Rochester, MN

Fellowship - Rutgers, New Jersey Medical School
Newark, NJ

Contact Information
Primary Location:
Childrens Minnesota Genetics
2545 Chicago Ave S STE 700
Minneapolis, MN 55404
(612) 813-7240

Personal Biography
Marcelo P. Vargas, MD is a clinical and biochemical geneticist and the Medical Director of Genetics and Genomics at Children's MN. He completed his medical education at Rutgers New Jersey Medical School in Newark, NJ and his pediatrics residency at St. Christopher's Hospital for Children in Philadelphia, PA. He then returned to Rutgers New Jersey Medical School for his clinical genetics fellowship. He also finished a clinical biochemical genetics fellowship at Mayo Clinic in Rochester, MN. His primary clinical interests include the genetics of autism spectrum disorders, application of novel genetic technologies to clinical practice, and expansion of clinical genetic services in pediatric medicine.