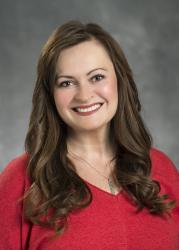 Kendall Biallas Baumgartner, APRN CPNP-AC
Nurse Practitioner - Pediatric
(612) 813-3300
Specialties: Critical Care, Pediatric
Professional History
Board Certification
Acute Care, Certified Pediatric Nurse Practitioner - Pediatric Nursing Certification Board

Professional Education
MSN - University of Pennsylvania School of Nursing
Philadelphia, PA
2010

Contact Information
Primary Location:
Childrens Respiratory & Critical Care Specialists
2530 Chicago Ave S STE 400
Minneapolis, MN 55404
(612)813-3300

Personal Biography
Kendall is a Pediatric Critical Care Nurse Practitioner for Children's Respiratory and Critical Care Specialists, practicing at Children's Minnesota Minneapolis campus. She is a Minnesota native and completed her undergraduate nursing degree at Gustavus Adolphus College in St. Peter, MN. Kendall found early on in her nursing career that she had a passion for critically ill children and furthered her education by completing a Master of Science in Nursing for Pediatric Nurse Practitioner – Acute Care with a special focus in Pediatric Critical Care from the University of Pennsylvania School of Nursing in Philadelphia, PA in 2010. After graduate school, Kendall practiced as a Pediatric Critical Care Nurse Practitioner at Children's Medical Center in Dallas, TX from 2010-2015. Missing her family and friends in Minnesota, she returned to the Minneapolis area to accept a position as a Trauma Advanced Practice Provider for Children's Minnesota. Eventually, it became apparent that Kendall was missing her practice in the Pediatric Intensive Care Unit and joined CRCCS as a Pediatric Critical Care Nurse Practitioner in 2018. In her free time, Kendall enjoys spending time with her husband in the great outdoors camping, hiking, biking, trail running, snowshoeing, paddle boarding and spending time in northern Minnesota at the lake. She also loves to cook, but rarely follows a recipe without tweaking it a little.