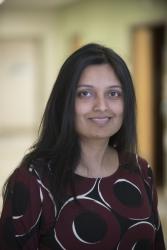 Sarah Javed Kizilbash, MD
Physician
(612) 813-6089
Specialties: Nephrology, Pediatric
Fluent Languages: Hindi | Urdu
Professional History
Board Certification
Nephrology, Pediatric - American Board of Pediatrics

Medical Education
MBBS - Aga Khan University
Karachi
2003

Residency/Fellowship
Residency - Children's Hospital of Michigan
Detroit, MI

Fellowship - University of Minnesota Medical School
Minneapolis, MN
2016

Contact Information
Primary Location:
Childrens Minnesota Nephrology Clinic
2530 Chicago Ave S STE 390
Minneapolis, MN 55404
(612) 813-6089

Secondary Location(s):
University of Minnesota Nephrology, Ped
2450 Riverside Ave S E Bldg MB 680
Minneapolis, MN 55454
(612) 365-6777

University of Minnesota Pediatric Nephrology
2512 S 7th St Discovery Clinic 3rd Flr
Minneapolis, MN 55454
(612)365-6777

Personal Biography
Sarah Kizilbash is a pediatric nephrologist at Children's Minnesota. She attended medical school at the Aga Khan University, Pakistan. She completed her pediatric residency and served as an associate chief resident during the third year of her residency at Wayne State University, Michigan. Sarah was employed at the Mayo Clinic, Rochester as a general pediatrician and a hospitalist before her fellowship in pediatric nephrology at the University of Minnesota. Her areas of interest include acute kidney injury, hypertension, kidney transplant and peritoneal dialysis in infants and young children. She directs the pediatric kidney transplant program at the University of Minnesota, and she is engaged in research aimed at improving kidney transplant outcomes.