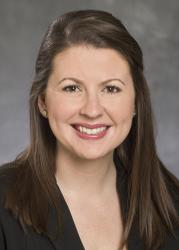 Nicole Rae Banick, PA-C
Physician Assistant
(612) 874-1292
Specialties: ENT, Otolaryngology, Pediatric | ENT, Otolaryngology | Otolaryngology, Pediatric
Professional History
Board Certification
Physician Assistant - National Commission on Certification of Physician Assistants

Professional Education
PA-C - St Catherine University
St Paul, MN
2015

Contact Information
Primary Location:
Childrens Minnesota ENT Facial Plastic Clinic
347 N Smith AVE STE 600
St Paul, MN 55102
(612)874-1292

Personal Biography
Nicole Banick is a Certified Physician Assistant and member of the Pediatric Trauma Service on the Minneapolis campus of Children's Minnesota. She obtained her Master's degree in physician assistant studies from St. Catherine University in St. Paul and completed her undergraduate degree at the College of St. Benedict in St. Joseph, MN. Her areas of interest include: pediatric emergency and hospital medicine. Nicole enjoys having the opportunity to care for the pediatric population within the community she was born and raised.