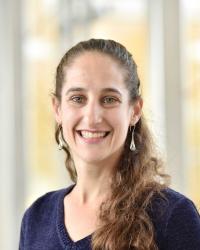 Nadia Maccabee-Ryaboy, MD
Physician
(612) 813-7155
Specialties: Pediatrics | Hospitalist
Professional History
Board Certification
Pediatrics - American Board of Pediatrics

Medical Education
MD - University of Minnesota Medical Center
Minneapolis, MN
2013

Residency/Fellowship
Residency - University of Minnesota Department of Pediatrics BMT
Minneapolis, MN
2016

Contact Information
Primary Location:
Childrens Minnesota Hospitalist Program
2525 Chicago Ave S STE 32-1024
Minneapolis, MN 55404
(612) 813-7155

Secondary Location(s):
Childrens Minnesota Hospitalist Program
345 N Smith Ave STE 3249
St Paul, MN 55102
(612)813-7155

Personal Biography
Since completing my Pediatric Residency training at the University of Minnesota, I've served as a pediatric hospitalist; first at Methodist Hospital in Saint Louis Park and now, since January 2019, at Children's Hospital of Minnesota. I enjoy partnering with parents to provide family-centered, compassionate and evidence-based care for infants, children, teens and young adults. I have a passion for public health advocacy and for hospital-wide quality improvement to enhance patients' health. I've published journal articles on autism and pediatric hypertension. Outside of the hospital, I love to dance and find joy in my three children.