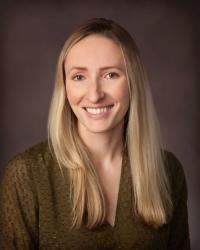 Madeline Streitz Pokorney Goeden, MD
Physician
(952) 473-0211
Specialties: Pediatrics
Professional History
Medical Education
MD - Medical College of Wisconsin Hospitals and Clinics
Milwaukee, WI
2013

Residency/Fellowship
Residency - University of Minnesota Department of Pediatrics BMT
Minneapolis, MN
2016

Contact Information
Primary Location:
Wayzata Childrens Clinic
14001 Ridgedale Dr STE 100
Minnetonka, MN 55305
(952)473-0211

Secondary Location(s):
Wayzata Childrens Clinic
111 Hundermark Rd STE 420
Chaska, MN 55318
(952)448-3847

Wayzata Childrens Clinic
916 St Peter Ave STE 120
Delano, MN 55328
(763)230-2780

Wayzata Children's Clinic
9325 Upland Ln N STE 111
Maple Grove, MN 55369
(763)324-8000

Wayzata Childrens Clinic
4695 Shoreline Dr STE A
Spring Park, MN 55384
(952)495-8910

Personal Biography
Maddy is Minnesota native, having grown up in Duluth, Minnesota. She attended Colorado College, where she earned a Bachelor's Degree in Biology with honors in 2005. Maddy then worked in a gene therapy lab in New York before moving back to Minnesota and managing participants in the Minnesota Twin Study. She then earned her Medical Degree in 2013 from the Medical College of Wisconsin in Milwaukee. Maddy completed her pediatrics residency at University of Minnesota and is Board Certified in pediatrics. Her professional interests include sleep medicine, dermatology, and empowering parents to raise wonderful children. Her hobbies include fostering animals through the Humane Society, practicing yoga, and gardening. Maddy and her husband live in Minneapolis and are enjoying the challenge of parenting a toddler. They also have a rambunctious cat Benny.