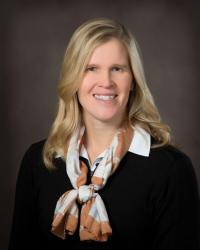 Teresa Jo Kivisto Bekkala, APRN CNP
Nurse Practitioner - Pediatric
(952) 495-8910
Specialties: Pediatrics
Professional History
Professional Education
MS - Vanderbilt University School of Nursing
Nashville, TN
2016

Contact Information
Primary Location:
Wayzata Childrens Clinic
4695 Shoreline Dr STE A
Spring Park, MN 55384
(952)495-8910

Secondary Location(s):
Wayzata Childrens Clinic
111 Hundermark Rd STE 420
Chaska, MN 55318
(952)448-3847

Wayzata Childrens Clinic
916 St Peter Ave STE 120
Delano, MN 55328
(763)230-2780

Wayzata Children's Clinic
9325 Upland Ln N STE 111
Maple Grove, MN 55369
(763)324-8000

Wayzata Childrens Clinic
14001 Ridgedale Dr STE 100
Minnetonka, MN 55305
(952)473-0211

Personal Biography
Teresa is from Cokato, a small community in central Minnesota. She earned her Bachelors of Science degree in Nursing at the University of Minnesota in 1991, and worked at Children's Hospital of Minneapolis for the next ten years. Teresa then worked as a travel nurse before starting her position as a Nurse Clinician at the University of Minnesota Masonic Children's Hospital Pediatric Blood and Marrow Transplant program, where she worked for twelve years. She earned her Masters of Science in Nursing degree from Vanderbilt University in 2016, specializing as a Pediatric Nurse Practitioner in Primary Care, spending part of her clinical time at Wayzata Children's in 2016. Teresa joined our clinic "officially" in 2016. She enjoys working with children of all ages, as they all have something special to bring to a day (from excitement with a "Frozen" sticker to sharing the news of an 'A' on a recent math final!). When not at work, Teresa enjoys spending time with her husband and family, and keeping active with cross-country skiing, biking, hiking, and almost any other outdoor pursuit. She also loves to travel both near and far from home! Teresa has many nieces and nephews that keep her busy, too.