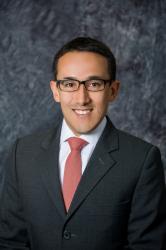 Ciro Antonio Vasquez, MD
Physician
(612) 871-7278
Specialties: Neurosurgery
Fluent Languages: Spanish
Professional History
Board Certification
Neurosurgery - American Board of Neurological Surgery

Medical Education
MD - University of Medicine & Dentistry
Newark, NJ
2009

Residency/Fellowship
Residency - University of Minnesota Medical School
Minneapolis, MN
2016

Fellowship - University of Colorado Health Sciences Center
Aurora, CO
2017

Contact Information
Primary Location:
Neurosurgical Associates, Ltd.
913 E 26th St 305 Piper Building
Minneapolis, MN 55404
(612)871-7278

Personal Biography
Dr. Ciro Vasquez was born in Bogota, Colombia and pursued his studies there before immigrating to the United States. He graduated from the University of South Florida with a BA in Biology and then obtained his medical degree from New Jersey Medical School (formerly an institute of the University of Medicine and Dentistry of New Jersey, and now a unit of Rutgers School of Biomedical and Health Sciences). Ciro had a personal encounter with the profession through a family member illness which was the impetus for his career path. Dr. Vasquez completed his neurosurgical training at the University of Minnesota. During his training he developed strong interest in skull base lesions, facial pain, brain tumors, traumatic brain injury and complex spine disease. He then went to complete a Skull base fellowship at the University of Colorado, where he had significant exposure for treatment and management of pituitary tumors, vestibular schwannomas and complex skull base meningiomas. Though not a native Minnesotan, Dr. Vasquz has a strong affection for Minnesota as this is where he met his wife and had his first child. Joining Neurosurgical Associates is a privilege for Dr. Vasquez, as he will continue to work and learn from his mentors. Dr. Vasquez's clinical interests are in surgery of the posterior fossa and cranial nerves, open and endoscopic skull base surgery, Chiari malformations, facial pain, pituitary tumors, brain tumors and complex degenerative spine disease. Dr. Vasquez enjoys spending time with his family, playing soccer, playing tennis and biking. He is fluent in both English and Spanish. He is committed to providing the highest level of personalized care to Minnesotans who present with complex problems of the brain and spine. Patients with diseases of the central nervous system deserve technical excellence during surgery, in addition to compassionate guidance before and after surgery.