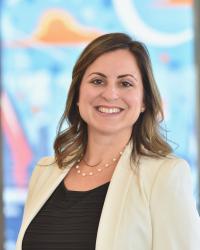 Sara Gonzalez Rodriguez, LP PhD
Psychologist
(651) 220-6720
Specialties: Psychology
Fluent Languages: Spanish
Professional History
Professional Education
PhD - University of Nebraska Lincoln
Lincoln, NE
2018

Residency/Fellowship
Fellowship - Minnesota Epilepsy Group
St. Paul, MN
2019

Contact Information
Primary Location:
Childrens Minnesota Psychological Services
347 N Smith Ave 70-301
St Paul, MN 55102
(651)220-6720

Personal Biography
Sara Gonzalez Rodriguez, PhD, LP (she/her) is a bilingual (Spanish-English) pediatric psychologist at Children's Minnesota. She earned her Bachelor's degree in Psychology from the University of Puerto Rico in Mayaguez, PR. She completed her graduate studies in school psychology from the University of Nebraska in Lincoln, NE. She went on to complete her one-year pre-doctoral clinical internship at Texas Child Study Center at Dell Children's Medical Center in Austin, TX. Following her internship, Dr. Gonzalez finished a post-doctoral fellowship in pediatric psychology at the Minnesota Epilepsy Group, PA in St. Paul, MN. Dr. Gonzalez has been with Children's Minnesota since 2019 with a focus on outpatient therapy for children and adolescents and also works with medical inpatients. She has a pediatric focus in various outpatient clinics such as endocrine/diabetes, gender health, and neurology. Dr. Gonzalez is committed to providing evidence-based treatment for her patients, utilizing cognitive-behavioral therapy, motivational interviewing, behavioral interventions, and integrative medicine approaches.