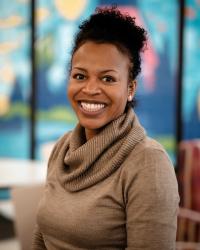 Sonya Nicole McLaughlin, APRN CNP DNP
Nurse Practitioner - Neonatal
(612) 813-6295
Specialties: Neonatology
Professional History
Board Certification
Neonatal Nurse Practitioner - National Certification Corporation

Professional Education
APRN CNP DNP - Emory University
Atlanta, GA
2017

Contact Information
Primary Location:
Childrens Minnesota NICU Minneapolis
2525 Chicago Ave S STE 32-2516
Minneapolis, MN 55404
612-813-6295

Secondary Location(s):
Childrens Minnesota Neonatal Medicine
345 N Smith AVE STE 70-505
St Paul, MN 55102
(651)220-6210

Personal Biography
Dr. S. Nicole "Nikki" McLaughlin is an experienced neonatal nurse practitioner (NNP) based in Atlanta, GA who takes pride in providing exceptional, comprehensive, care for her patients. Dr. McLaughlin began her educational career at Benedict College in Columbia, SC and has since matriculated through Duke University School of Nursing, East Carolina University, and Nell Hodgson Woodruff School of Nursing to complete a Bachelor of Science (BSN), Master of Science (MSN), and Doctor of Nursing Practice (DNP), respectively. Dr. McLaughlin finished her terminal degree in 2017 completing her educational career (to date!), a publication of her scholarly work being nationally circulated in early 2020.