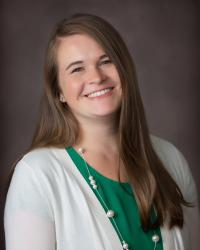 Lyndsi Jordan Tufte Paumen, MD
Physician
(952) 448-3847
Specialties: Pediatrics
Professional History
Medical Education
MD - University of Alabama at Birmingham
Birmingham, AL
2015

Residency/Fellowship
Residency - Emory University
Atlanta, GA
2019

Contact Information
Primary Location:
Wayzata Childrens Clinic
111 Hundermark Rd STE 420
Chaska, MN 55318
(952)448-3847

Secondary Location(s):
Wayzata Childrens Clinic
916 St Peter Ave STE 120
Delano, MN 55328
(763)230-2780

Wayzata Children's Clinic
9325 Upland Ln N STE 111
Maple Grove, MN 55369
(763) 324-8000

Wayzata Childrens Clinic
14001 Ridgedale Dr STE 100
Minnetonka, MN 55305
(952)473-0211

Wayzata Childrens Clinic
4695 Shoreline Dr STE A
Spring Park, MN 55384
(952)495-8910

Personal Biography
Dr. Paumen grew up in the Atlanta, GA area before coming to Minnesota to study both biology and political science at Concordia College in Moorhead. After graduating with honors, she went on to medical school at the University of Alabama School of Medicine / UAB, where she learned to love child development and caring for kids and their families. She completed her pediatric residency through Emory University at Children's Healthcare of Atlanta. Special interests include infant care and breastfeeding, asthma and allergic conditions, development and education, preventive medicine and the wellness of whole families. Lyndsi now lives in Rogers with her husband and three young boys. The family loves rescue dogs and SEC football, and they're looking forward to exploring all that the Minnesota outdoors has to offer.