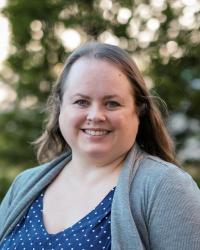 Corin Mauldin, APRN CNP
Nurse Practitioner - Neonatal
(612) 813-6118
Specialties: Neonatology
Professional History
Board Certification
Neonatal Nurse Practitioner - National Certification Corporation

Professional Education
MSN - University of Connecticut
Storrs, CT
2020

Contact Information
Primary Location:
Childrens Minnesota NICU Minneapolis
2525 Chicago Ave S STE 32-2516
Minneapolis, MN 55404
(612)813-6118

Secondary Location(s):
Childrens Minnesota Neonatal Medicine
345 N Smith AVE STE 70-505
St Paul, MN 55102
(651)220-6210

Personal Biography
Corin is a Neonatal Nurse Practitioner at Children's Minnesota. She received her BSN from Johns Hopkins University School of Nursing in 2009. Her first passion and heart has always been in the NICU where she worked as a bedside RN since 2011 to 2020 when she graduated as an NNP from the University of Connecticut. In her spare time, she enjoyed indulging in her other interesting including reading, traveling, and photography.