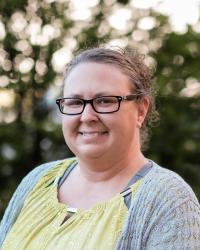 Kelli Dawn Guth, APRN CNP
Nurse Practitioner - Neonatal
(612) 813-6118
Specialties: Neonatology
Professional History
Board Certification
Neonatal Intensive Care Nurse - National Certification Corporation

Neonatal Nurse Practitioner - National Certification Corporation

Professional Education
MSN - Saint Francis Medical Center College of Nursing
Peoria, IL
2019

Contact Information
Primary Location:
Childrens Minnesota NICU Minneapolis
2525 Chicago Ave S STE 32-2516
Minneapolis, MN 55404
(612)813-6118

Secondary Location(s):
Childrens Minnesota Neonatal Medicine
345 N Smith AVE STE 70-505
St Paul, MN 55102
(651)220-6210

Personal Biography
Kelli is a Certified Neonatal Nurse Practitioner working at Children's Minnesota. She has always been drawn to the nursing field and has a passion in caring for neonates, infants, and their families. Kelli has spent most of her nursing career in the neonatal intensive care unit. She has an extensive background in neonatal nursing where she was a Neonatal Flight/Ground Transport Nurse prior to the completion of the Neonatal Nurse Practitioner Program from Saint Francis Medical Center College of Nursing in Peoria, IL in 2019. She was employed by OSF Saint Francis Medical Center from 2002 until joining the Neonatal Team at Children's Minnesota in 2020 as a Nurse Practitioner. Her greatest areas of professional interests include stabilization of the preterm and ill newborn prior to transport, congenital cardiac defects, and developmental care. Also, very dear to her heart is being part of a team that cares deeply to provide the greatest care for the neonate and family during their hospital stay. Kelli enjoys spending time with her family, traveling, making adventures, and continuously learning.