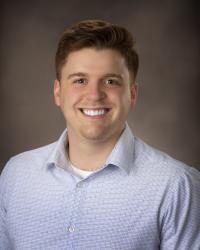 Shane Thomas McWhirter, MD
Physician
(952) 448-3847
Specialties: Pediatrics
Professional History
Medical Education
MD - University of Minnesota Medical School
Minneapolis, MN
2017

Residency/Fellowship
Residency - University of Minnesota Pediatric Residency
Minneapolis, MN
2020

Contact Information
Primary Location:
Wayzata Childrens Clinic
111 Hundermark Rd STE 420
Chaska, MN 55318
(952)448-3847

Secondary Location(s):
Wayzata Childrens Clinic
14001 Ridgedale Dr STE 100
Minnetonka, MN 55305
9524730211

Wayzata Childrens Clinic
4695 Shoreline Dr STE A
Spring Park, MN 55384
(952)495-8910

Personal Biography
Shane grew up in Kasson, Minnesota before graduating magna cum laude from the University of St. Thomas (St. Paul, Minnesota) in 2014 with a Bachelor of Science degree in neuroscience. He was accepted into the University of Minnesota Medical School after his undergraduate studies. With a strong interest in pediatrics from an early age (he told his 6th grade teacher he was going to be a pediatrician!), Shane was selected to participate in an innovative, competency-based, pediatric-focused program called Education in Pediatrics Across the Continuum (EPAC) which allowed him to earn his medical degree in 2017. He continued on at the University of Minnesota to complete his pediatric residency training in 2020 before joining Wayzata Children's Clinic. Shane enjoys taking care of children of all ages and has special interests in adolescent medicine, mental health care, weight management/nutrition and medical education. He is passionate about partnering with patients and families in their healthcare journey and empowering them to make decisions that optimize their physical, mental and emotional health in the context of their unique situation. Shane currently lives in Minneapolis with his wife, Caitlin (a high school teacher at Minnetonka High School), and their Bernese Mountain Dog, Teddy. When not at work, Shane enjoys cooking, exploring new restaurants, traveling, attending concerts, and hopelessly cheering on all things Minnesota sports.