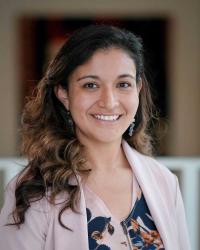 Daniela Gloria Villacis Calderon, MD
Physician
(612) 813-6295
Specialties: Neonatology | Pediatrics
Fluent Languages: Spanish
Professional History
Board Certification
Pediatrics - American Board of Pediatrics

Medical Education
MD - Universidad San Francisco de Quito
Cumbaya
2013

Residency/Fellowship
Residency - Texas Tech University Health Sciences Center El Paso
El Paso, TX
2018

Fellowship - University of Minnesota
Minneapolis, MN
2021

Contact Information
Primary Location:
Childrens Minnesota NICU Minneapolis
2525 Chicago Ave S STE 32-2516
Minneapolis, MN 55404
612-813-6295

Secondary Location(s):
Childrens Minnesota Neonatal Medicine
345 N Smith AVE STE 70-505
St Paul, MN 55102
(651)220-6210

Personal Biography
I completed my pediatric residency at Texas Tech Health Science Center El Paso and my neonatal-perinatal fellowship at the University of Minnesota. My clinical interests include hypoxic-ischemic encephalopathy, neonatal neurodevelopmental outcomes, global health and support to NICU families. During fellowship, my research has been focused on neonatal hypoxic-ischemic encephalopathy (HIE). I investigated a neural-specific molecular marker for brain injury in a mouse model of HIE to aid clinical decision making for hypothermia treatment and provide more information regarding long term outcomes to counsel families. In order to expand my efforts to improving neurodevelopmental outcomes globally, I worked on a project to teach neonatal resuscitation skills in South America via telemedicine. I look forward to translating this efforts to improve and enhance clinical practices to care for the neonatal brain. I am interested on partnering with a multidisciplinary team and families to improve outcomes on the neonatal population. I also focus on care of underserved and non-English speaking families.