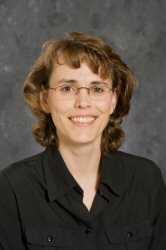 Debra Anne Weimerskirch, MD
Physician
(651) 220-6914
Specialties: Pediatrics | Emergency Medicine, Pediatric
Professional History
Board Certification
Clinical Informatics - American Board of Preventive Medicine

Pediatrics - American Board of Pediatrics

Medical Education
MD - University of Minnesota Medical School
Minneapolis, MN
1993

Residency/Fellowship
Residency - University of Minnesota Medical School
Minneapolis, MN

Contact Information
Primary Location:
Childrens Minnesota Emergency Medicine
345 N Smith AVE STE 70-504
St Paul, MN 55102
(651) 220-6914

Secondary Location(s):
Childrens Minnesota Emergency Medicine
2525 Chicago AVE S STE 32-1488
Minneapolis, MN 55404
(612) 813-6843

Personal Biography
Deb is a Pediatrician working in the Emergency Department at Children's of Minnesota. She attended medical school and completed a pediatric residency at the University of Minnesota. Prior to joining the Emergency Department in 2008, Deb practiced 12 years as a general pediatrician in the Twin Cities community. Deb is also heavily involved in clinical informatics and works for Wolters Kluwer where she writes medical content for order sets and clinical decision rules. She was board certified in Clinical Informatics in October of 2016. Her interests include use of an Electronic Medical Record to enhance care delivery, and patient / parent education. In her free time she enjoys time with her husband and 2 sons.