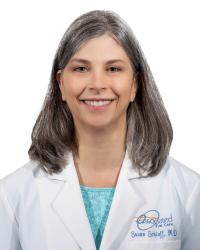 Susan Schloff, MD
Physician
(651) 275-3000
Specialties: Ophthalmology, Pediatric
Professional History
Board Certification
Ophthalmology - American Board of Ophthalmology

Medical Education
MD - Case Western Reserve University
Cleveland, OH
1992

Residency/Fellowship
Residency - Medical College of Wisconsin
Milwaukee, WI

Fellowship - University of Toronto/Hospital for Sick Children
Toronto

Contact Information
Primary Location:
Associated Eye Care- Woodbury
1625 Radio Dr STE 310
Woodbury, MN 55125
(651) 275-3000

Secondary Location(s):
Associated Eye Care- St. Paul
280 N Smith Ave STE 840
St. Paul, MN 55102
(651) 275-3000

Associated Eye Care- Stillwater
2950 Curve Crest Blvd W
Stillwater, MN 55082
(651) 275-3000

Personal Biography
Dr. Schloff joined Associated Eye Care in 1997. A native of Minnesota, she obtained her medical degree from Case Western Reserve University in Cleveland, OH, followed by Ophthalmology residency at the Medial College of Wisconsin in Milwaukee. She chose to specialize in children's eye diseases and moved to Toronto, ON for fellowship training at the Hospital for Sick Children before returning to her native state of MN. She is a member of PEDIG, a national group of pediatric eye doctors who collaborate to solve medical and surgical problems through clinical research. She has been involved with the MN Academy of Ophthalmology, having served as president and treasurer. Recently, she was part of the multi disciplinary task force for the Minnesota Department of Health, which reviewed and designed the guidelines for vision screening for all Minnesotans from newborn through age 20. http://www.health.state.mn.us/divs/cfh/topic/visionscreening/content/document/pdf/visionguidelines.pdf Dr. Schloff enjoys skiing, cooking, reading and travelling. Her recent new adventures include soba noodle making, bread baking and teaching herself to knit. Recent empty nesters, she and her husband may often be found relaxing in Western Wisconsin with their yellow lab, Argo.