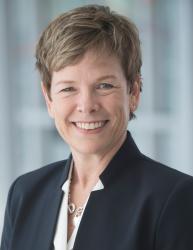 Emily Parker Chapman, MD
Physician
(612) 813-7155
Specialties: Pediatrics | Hospitalist
Video: Watch Video Profile
Professional History
Board Certification
American Board of Pediatrics

Medical Education
MD - University of Minnesota Medical School
Minneapolis
1995

MD - Dartmouth College Geisel School of Medicine
Hanover
1993

Residency/Fellowship
Residency - University of Minnesota Medical School
Minneapolis

Contact Information
Primary Location:
Childrens Minnesota Hospitalist Program Medical Director
2525 Chicago AVE S
Minneapolis, MN 55404
(612) 813-7155

Secondary Location(s):
Childrens Minnesota Associate Director University of MN Pediatric Residency Program
2525 Chicago AVE STE 17-110
Minneapolis, MN 55404
(612) 813-7155

Childrens Minnesota Hospitalist Program
345 N Smith AVE STE 3249
St Paul, MN 55102
(612) 813-7155

Personal Biography
I asked a 4-year-old boy to tell me about his tummy pain and he said,"'It feels like the Tazmanian Devil is running around in there trying to get out." That's why I love Pediatrics. I started in Medicine as a Child Life Specialist helping children cope with hospitalization. As a student of child psychology, I loved the work and signed on for more. I studied medicine at Dartmouth Medical School and specialized in Pediatrics as a resident at the University of Minnesota. I enjoyed practice as a Pediatrician for many years before returning to my training ground of Children's of Minnesota to teach and mentor young pediatricians in training. I now work alongside our trainees caring for hospitalized children, helping them heal, and partnering with there pediatricians to see them safely home. It's a privilege.