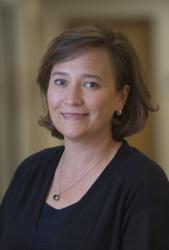 Elizabeth Johnson Siqveland, APRN CNP
Nurse Practitioner - Pediatric
(612) 813-7076
Specialties: Genetics/Genomics | Genetics/Genomics, Medical
Professional History
Board Certification
American Nurses Credentialing Center

Pediatric Nursing Certification Board

Contact Information
Primary Location:
Childrens Minnesota Neurocutaneous Syndromes
2530 Chicago AVE S STE 560
Minneapolis, MN 55404
(612) 813-7076

Secondary Location(s):
Childrens Minnesota Neurocutaneous Syndromes
345 N Smith AVE
St Paul, MN 55102
(612) 813-7076

Personal Biography
Elizabeth Siqveland is a bilingual (Spanish) board certified pediatric nurse practitioner. Ms. Siqveland has developed expertise in neurocutaneous syndromes by devoting her practice to the care of children with neurofibromatosis, tuberous sclerosis, and other disorders. Since 2005, she has led the medical team for the Neurocutaneous Syndromes Clinic at Children's Hospitals and Clinics of Minnesota, as well as, Gillette Children's Specialty Healthcare. She is involved with teaching medical students and residents. She is an active board member of NF, Inc. Minnesota since 2005 and routinely participates in local educational events with Children's tumor Foundation. Ms Siqveland also sees children in the Down syndrome clinic. She provides Genetics evaluations for children diagnosed with autism, congenital hearing loss, and hemihypertrophy.