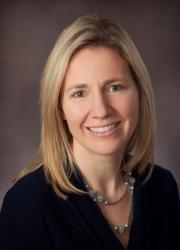 Tracey Ann McGuinn, MD
Physician
(612) 813-7155
Specialties: Pediatrics | Hospitalist
Professional History
Board Certification
American Board of Pediatrics

Medical Education
MD - University of Minnesota Medical School
Minneapolis
2003

Professional Education
- University of Minnesota Duluth
Duluth

Residency/Fellowship
Residency - University of Minnesota Medical Center
Minneapolis

Contact Information
Primary Location:
Childrens Minnesota Hospitalist Program
2525 Chicago Ave S STE 32-1024
Minneapolis, MN 55404
(612)813-7155

Secondary Location(s):
Childrens Minnesota Hospitalist Program
345 N Smith AVE STE 3249
St Paul, MN 55102
(612) 813-7155

Personal Biography
Tracey A. McGuinn, MD. grew up in St. Cloud, MN and graduated magna cum laude from the College of St. Benedict with a degree in Natural Science. The following year she volunteered in Belize, Central America as a third grade teacher. She earned her Medical Degree from the University of Minnesota in 2003, completed her residency there in 2006, and shortly thereafter joined the Wayzata Children's Clinic. Dr. McGuinn is Board Certified in Pediatrics and her clinical interests include premature infant care and asthma. Tracey lives in southwest Minneapolis with her Husband Pat and sons Aidan and Jacob. They enjoy long walks, entertaining friends and family, and traveling.