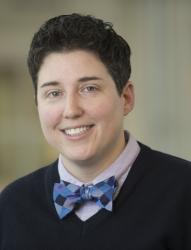 Angela R. Goepferd, MD
Physician
(612) 813-6107
Specialties: Pediatrics
Professional History
Board Certification
American Board of Pediatrics

Medical Education
MD - University of Minnesota Medical School
Minneapolis
2004

Residency/Fellowship
Residency - University of Minnesota Medical Center
Minneapolis

Contact Information
Primary Location:
Childrens Minnesota General Pediatrics
2530 Chicago AVE S STE 390
Minneapolis, MN 55404
(612) 813-6107

Secondary Location(s):
Childrens Minnesota Medical Director Medical Education
2525 Chicago AVE S
Minneapolis, MN 55404
(612) 813-6107

Personal Biography
Angela Kade Goepferd, MD is a Pediatrician and Pediatric Hospitalist with Children's Minnesota. She is also the Director of Medical Education and Site Director for the Teaching Service on the Minneapolis campus. She graduated from medical school at the University of Minnesota and also completed her residency training at the University of Minnesota. She is currently an Adjunct Assisstant Professor in the University of Minnesota Department of Pediatrics. Dr. Goepferd enjoys working with new, first-time parents as well as adolescent parents, and has a special interest in adolescent health, including the health of GLBT youth. She speaks Spanish, and enjoys working with Latino families and other new immigrant families. As the Associate Director of Medical Education at Minneapolis Children's, she keeps her skills sharp by teaching medical students and residents the joys and challenges of pediatrics.