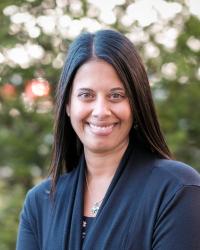 Monisha K. Husom, APRN CNP
Nurse Practitioner - Neonatal
(612) 813-6288
Specialties: Neonatology
Professional History
Board Certification
National Certification Corporation

Professional Education
MA - St Catherine University
St Paul
2007

Contact Information
Primary Location:
Childrens Minnesota NICU
2525 Chicago AVE S STE 32-2516
Minneapolis, MN 55404
(612) 813-6288

Personal Biography
Monisha Husom is a Neonatal Nurse Practitioner at Children's Hospitals and Clinics of Minnesota, Minneapolis Campus NICU and the Special Care Nursery at Abbott Northwestern Hospital providing care for critically ill and premature babies. Monisha attended the University of Minnesota graduating with a BS in Nursing. She was then employed as a registered nurse in the NICU at Children's. She attended the College of St. Catherine, graduating with a Master's of Arts degree in Nursing and was certified as a neonatal nurse practitioner in 2007. Monisha lives in Burnsville with her husband Justin, son Xavier, and daughter Priya.